How to choose a steam mop? Will steam mop work for your flooring? What is the difference between steam mops and wet jets? What is the best steam mop available?
This blog is designed to explain how to choose properly your steam mop as I do believe it's a great tool that helps us save a lot of time!
How to choose a Steam Mop?
It is important to disinfect your living areas. Floors happen to be one of the dirtiest, or at least, is the fastest area to get dirty. For this, you would need a mop and bucket. However, using cleansers, bleach, or other chemicals with your regular mop may have a bad long-term effect on your floors. It might make them fuller as time passes or have other chemical side effects. Plus, chemicals are always harmful to live beings and to the environment. Steam mops are a very good alternative. They replace chemicals with steam on dealing with dirt and for disinfecting the floor. How to choose a steam mop?
How do steam mops work?
Steam mops work by using a jet of steam to remove dirt, grime, and kill germs and mites. Steam mops' reservoir is filled with water and heated to above the boiling point to produce steam, usually at 120°C. The steam produced is then blasted out on through a microfiber pad to trap the moisture resulting in a dry steam that does not damage your floors, couch or mattresses. Some floors need to have multiple jets of steam and multiple layers of microfiber pads. As these pads soak the moisture from the steam, the dirt from the floor is drawn up by the pad and then absorbed.
These microfiber pads are not really made to soak up a lot of liquid or too much dirt, so if there is a spill or some mud on the floor, it is advised to soak up the liquid or remove the mud using a regular mop. After which you can use your steam mop for cleaning the hard to remove residue and disinfect the area. Most of these pads are washable and need washing after being saturated with dirt. They also need to be dried before putting back on the steam mop. So it is better to keep multiple pads around especially if the area you are cleaning is quite large.
What are steam mops results?
Steam mops can remove most stains that cannot be removed by cleansers on sensitive types of floors and carpets. If there are stains that cannot be removed after one go, eventually it will be removed with regular use. These steam mops also help retain the shine on floors like wood and tiles since they do not leave residue or make chemical burns. But it is also important that using a steam mop needs focus since it can be dangerous. A lot of people get burned because of carelessness. So when using a steam mop for the first time, always read the instructions and never let your foot slide under the mop.
Why should you choose a steam mop?
Are you still using a mop and bucket to clean your floors? Read that article and learn how to choose a steam mop. Today a lot more people have put the conventional way of mopping floors to rest and are using steam mops. If you are wondering why, here are a few reasons:
Cleans and sanitizes your floors and carpets, which promotes a healthier home environment.
Convenient, quick, and easy to use.
No hazardous chemicals are needed, you just need water.
You save money, due to not purchasing cleaning products.
Gets rid of indoor pollutants
More people are looking for a way to live a healthier lifestyle and are seeking out environmental friendly products. The steam mop is one household appliance that satisfies this concern. Steam floor cleaners are not only used by home owners; but, businesses like cleaning services use them too. How to choose a steam mop?
There are a variety of steam mops on the market today that serve different household chores. There are some available that cleans:
Only Hard floors.
Hard floors and carpets.
Can be used as a handheld steamer and hard floors, carpets.
Choosing a quality steam floor cleaner that best fits your cleaning tasks at home will be most beneficial to you. Also, it allows you to get rid of the unhygienic mop and bucket.
Steam Carpet Cleaners Health Benefits
What are some other ways steam mops can be used? Do you have children or pets? A steam mop that cleans and sanitizes both hard floors and carpets would be one way you could maintain healthy living conditions for your family and pets. A majority of children spend a lot of time playing on the floors, as well as, your pets.
Some pets may have fleas from time to time. As a result, you may have fleas and its' eggs living in your carpet and other areas within your home. Owning a steam mop that does the job as steam carpet cleaners is a great way to get rid of indoor pollutants within your carpet. These home steam mops usually come with a carpet glider.
Steam cleaners for floors get rid of indoor pollutants by releasing hot steam vapour at a temperature of at least 130°C. Most of pollutants used are like E. coli, salmonella, fleas, pollen, and more on contact. In addition, steam cleaning appliances that leave little moisture on the surface will allow your floors to dry quickly and not leave unsanitary residue behind.
Using a floor steam cleaner on your floors and carpets can help keep your family healthy by:
Providing relief to family members who suffer from allergies by getting rid of indoor pollutants that can trigger allergic reactions.
Getting rid of bacteria and viruses that may cause sicknesses.
Preventing and getting rid of fleas on your floors and embedded within your carpet.
Eliminating the use of possible hazardous household chemicals that can be a health risk and cause illnesses.
Giving your family save, clean, and sanitized floors and carpets where they can relax.
As we know, there are additional steps that need to be taken to maintain your pet's hygiene so that it does not endanger your family's health, but using a steam carpet cleaner to clean your carpet is a start to cleanliness.
Handheld Steam Cleaner is Protection
It is very convenient to use a mop that can be used to steam clean hard floors, carpets, and can be converted into a handheld steam cleaner. A steam mop with multiple uses is economical and saves you money from having to purchase more than one steam cleaning appliance. You can use the handheld steamer to clean areas that cannot be cleaned with a steam mop.
For instance, you can use a handheld steam cleaner to sanitize most surfaces in your home where your family may come in contact with daily and where indoor pollutants may live. The handheld steamer can be used on kitchen and bathroom counter tops, furniture upholstery, oven, refrigerator, and much more.
You know your home and family. What value do you believe hand held steam cleaners may bring to your home? You will feel good when you take the necessary steps to keep a clean and sanitized home and a healthier family. How to choose a steam mop?
Advantages Of Using A Steam Mops
More and more homeowners nowadays are purchasing steam mops instead of the old mop-and-bucket type. This is not really surprising considering just how advantageous this product is over the typical cleaning item. As the name suggests, a steam mop utilizes steam in order to remove even the toughest stains off the floor. It works by heating the stored water then using the produced steam to remove dirt and other particles off the floor.
However, the advantages of steam mops actually go beyond that. For those who are wondering whether they should buy one or not, the following are some of the benefits of this product.
Easier to Use
Imagine having to carry a bucket and the mop around, dipping it in the water and wringing every few minutes or so. This can take hours — not to mention consume a homeowner's energy endlessly. With a steam mop however, this is not the case at all. The mop automatically generates steam and directs it towards the floor while the user simply glides it all over the room. The fact that the mop is also specially designed for easy carrying is a plus, allowing individuals to literally clean every part of the house faster than they usually do.
Perfect Cleaning
Using regular mops can be very detrimental to the quality of cleaning. Since the mop would be dipped in water over and over again, there is a good chance that the mop would be trailing a brown streak after several minutes. If this happens, then the user would not be cleaning anymore but merely spreading the dirt around. With a steam mop however, every swipe provides thorough cleaning. The product naturally produces steam that completely removes the dirt instead of distributing it. This is the most important to know how to choose a steam mop?
Kills Germs and Bacteria
Steam mops can reach temperatures as high as 220 degrees Fahrenheit. At that level, homeowners would not just be removing superficial dirt, but also the germs and bacteria residing on the floor. With this much cleaning power, individuals would not have to worry about letting their children play on the floor or having toys strewn about in the area.
No Need for Repeats
Traditional mops typically necessitate up to two or three levels of cleaning in order to achieve high quality results. With steam products however, one swipe is all it takes to achieve perfect results. In fact, studies show that with a steam mop, the mopping time is reduced by as much as 50%.
Environment Friendly
Steam mops operate using electricity, which is probably why some homeowners are a bit skeptical in using it. However, most mops today are actually created with the Energy Star stamp. This means that they consume less energy than usual but still provides the same level of quality cleaning expected.
Of course, those are not the only advantages of steam mops. Depending on the brand, individuals could purchase products that carry excellent advantages such as a rechargeable and cordless mop. With so many models of this product out in the market today, finding one that fits the buyer's budget and requirements can take as little as several minutes of browsing online.
Take the hard work out of cleaning your floors and get them clean and germ free like never before. We have a great selection of brand name steam mops and steam cleaners available at amazing low prices. And you get free shipping on every order.
Now that you know how to choose a steam mop? We will review the best steam mops available at affordable rates.
WHAT ARE THE BEST STEAM MOPS?
Comparison Chart
Bissell 1940 PowerFresh Steam Mop Hard Floor Steam Cleaner, Blue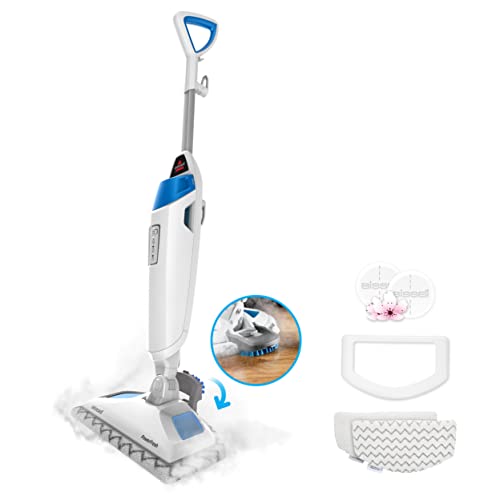 PRODUCT DESCRIPTION
BISSELL PowerFresh Steam Mop, 1940 The BISSELL PowerFresh Steam Mop offers a deep clean with a fresh scent. This unique steam mop gets deep down into the grout and crevices while leaving a fresh, clean scent while you steam mop. This fully featured steam mop has SmartSet Steam Control letting you adjust the amount of steam needed to tackle messes. For light cleaning use the low setting, everyday messes, choose medium, and for the toughest mess select high. And when you need an extra boost to cut through the dried-on sticky spot, flip down the Easy Scrubber on the mop head. It uses bristles to quickly and easily remove those stubborn messes, getting deep down in the crevices.
The PowerFresh Steam Mop also includes Spring Breeze fragrance discs. Insert the scented disc into the pocket of the mop pad to enjoy a fresh, clean aroma while you steam mop. Simply discard the disc when you're finished, leaving your home smelling clean. Other features include a 23 foot power cord, removable water tank and 2 different mop pads; one for everyday cleaning, and one with scrubbing strips. The low-profile mop head also reaches into hard to clean edges and corners.
Why should you buy the Bissell 1940 PowerFresh Steam Mop?
Kills 99.9% of germs and bacteria. The flip-down easy scrubber allows you to clean up the toughest messes, grout, sticky and dried-on spots
Works 2x faster than comparable steam mops thanks to built-in easy scrubber
Smart set digital, variable steam control lets you customize your steam cleaning experience (low, Medium, high)
Comes with Febreze spring breeze fragrance Discs for added freshness.
The water tank is located on the top of the PowerFresh™ Steam Mop. You can refill it with water any time during use. Distilled or demineralized water is recommended in place of tap water. DO NOT USE chemicals in the water tank of your PowerFresh Steam Mop.
Steam mop for bare floors: Scrubs, shines and sanitizes your floors for a deeper clean without the use of chemicals
Safe on hard floorsGently cleans and sanitizes sealed hardwood, tile, stone, marble, ceramic, linoleum and laminate flooring, SmartSet Steam Control for light cleaning to heavy messes.
O-Cedar Microfiber Steam Mop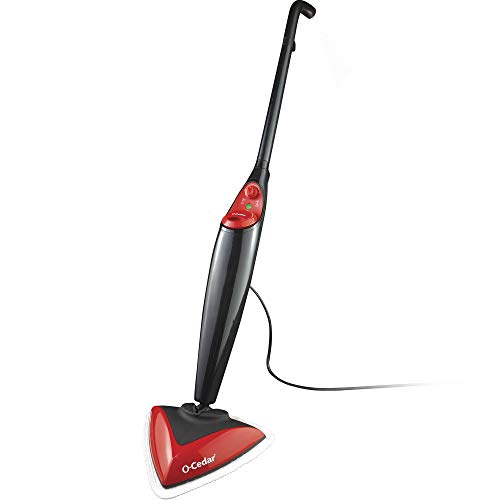 PRODUCT DESCRIPTION
Heats up quickly From plug-in to steam in only 20 seconds. Adjustable steam settings Cean safely and effectively on any floor surface. Triangle head designed to easily clean into corners and hard to reach edges. Light weight design Swivels and glides across your floors with ease.
Microfiber pad absorbs dirt, dust and bacteria. Cleans your floors without chemicals and is safe and effective on all hard floor surfaces. Machine washable Microfiber pad is machine washable up to 25 times. Kit includes 2 microfiber cleaning pads.
Snap-on carpet glider. Refresh your carpets with the cleaning power of steam.
Kills 99.9% of bacteria* on floors without any cleaning chemicals. (tested on E.Coli bacterium)
Microfiber mop pad captures dirt, grime, dust and hair .
BISSELL Symphony Pet All-in-One Vacuum and Steam Mop, 1543A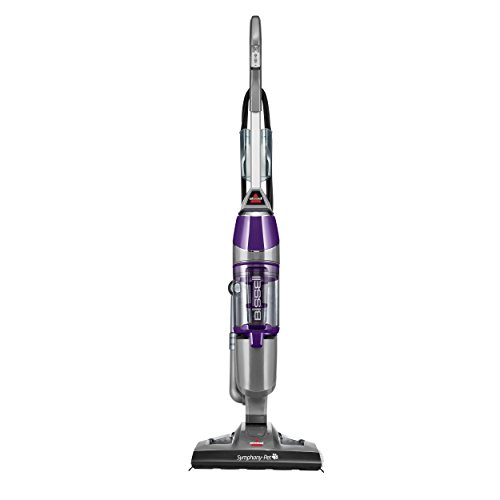 PRODUCT DESCRIPTION
The BISSELL Symphony Pet All-in-One Vacuum and Steam Mop lets you vacuum and steam clean your floors at the same time
Easy Touch Digital Controls allow you to quickly choose between low-steam, high-steam, and vacuum modes
Exclusive Drop-IT technology gives you no-hassle, hands-free tank emptying of messes and pet hair
Features stronger suction for improved pickup
SwifferBISSELL SteamBOOST disposable mop cleaning pads clean up your worst pet messes and leave a fresh, open-window scent behind.
Furthermore it eliminates 99.9% of germs and bacteria with the natural power of steam when used as directed.
2-in-1 Cleaning Power
The Symphony Pet All-in-One Vacuum & Steam Mop gives you a unique cleaning experience with the ability to vacuum pet hair and dry debris, plus steam clean your floors at the same time. The new Symphony Pet has stronger suction for improved pickup. The Easy Touch Digital Controls make it easy to switch between high-steam, low-steam, and vacuum cleaner options.
Natural Cleaning that Matches Your Messes
The Symphony Pet All-in-One Vacuum & Steam Mop gives you the peace of mind that comes with a natural steam clean, using only water and no chemicals. You'll enjoy versatile cleaning options, with both washable mop pads for everyday messes and disposable Swiffer BISSELL SteamBOOST mop pads for your worst pet messes. You can also add a variety of scent discs for an even fresher clean.
Keep Your Hands As Clean As Your Floors
Because no one likes to get their hands dirty after cleaning their floors, the Symphony Pet All-in-One Vacuum & Steam Mop features the exclusive Drop-It tank-emptying system. Just press the lever and your mess goes into the trash–that means no more reaching in and pulling out wrapped pet hair.
Bissell 19404 PowerFresh Pet Steam Mop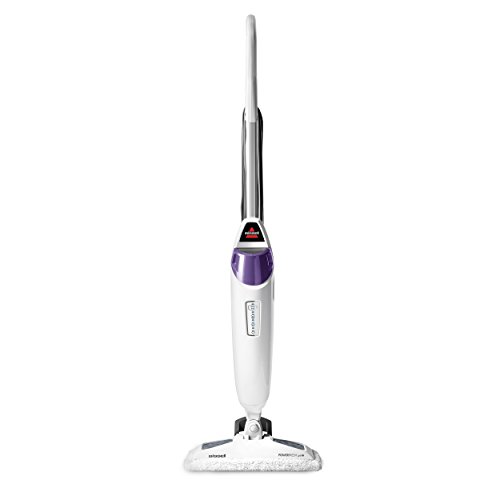 PRODUCT DESCRIPTION
Sanitize floors with the BISSELL PowerFresh Steam Mop, which eliminates 99.9% of germs and bacteria when used as directed
Shine floors while you clean sticky dried-on spots 2X faster than the leading steam mop with the built-in Easy Scrubber or scrubby microfiber mop pad
Remove tough spots with the built-in flip-down Easy Scrubber.
Customize your clean with the SmartSet digital variable steam control
Neutralize odors with Odor Eliminating Fragrance Discs included
The product takes about 30 seconds to generate steam.
Give your hard floors a shiny, sanitized clean* with the variable, digital steam control. Armed with the handy, flip-down Easy Scrubber, you can thoroughly clean tough messes. Clean sticky, dried on spots 2X faster than the leading steam mop with a built-in Easy Scrubber, while experiencing whole-room freshness from the optional scent discs. Now clean, sanitized floors are a simple steam away. when used as directed .
Hoover FloorMate Deluxe Hard Floor Cleaner

PRODUCT DESCRIPTION
Folding handle minimizes the space needed to conveniently store in crowded closets or small areas after cleaning
SpinScrub Brushes deliver the best clean while gently and safely scrubbing sealed wood, vinyl, tile and grout
Dual Tank Technology, keeps clean and dirty water separate so you never put dirty water back on the floor
Wash/Dry Mode Selection- wash mode uses brushes to clean while suctioning up excess water, Dry mode stops brushes to suction up excess water and improve drying time
Clean Boost Control- fingertip control applies extra detergent to stains and heavy traffic areas
The Hoover Floor Mate deluxe hard floor cleaner does the scrubbing for you on sealed hardwood, vinyl, ceramic tile, laminate and marble. Specially designed brushes are interchangeable and feature Spin Scrub technology to gently wash and scrub from all angles. It's lightweight and makes hard floors easy to clean with controls like wash and dry mode selector, fingertip solution control, clean boost control and dual tank technology.
Dirt Devil Endura Reach Upright Bagless Vacuum Cleaner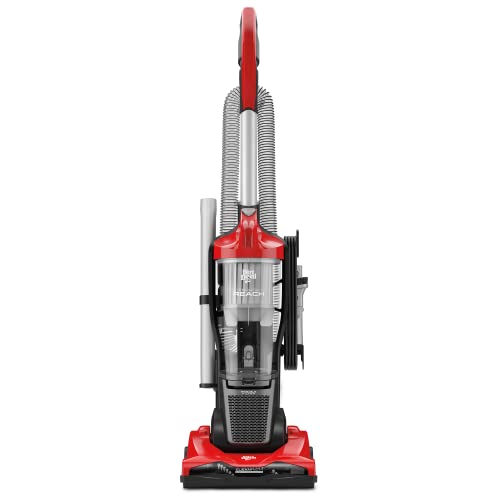 PRODUCT DESCRIPTION
This steam mop is great for cleaning without constantly having to manage your filtrer. The Dirt Devil Endura has three stage filtration that can achieve effective cleaning without any loss of suction. Furthermore the pleated filter can be rinsed with water and the foam sleeve catches the fine dirt.
The wand is extendable easily. This helps you cleaning high spaces that are difficult to reach. The wand can extend up to 10ft.
To clean your filter just remove it from the first cup, clean the big mess above your trashcan and rinse it afterwards. I would recommend to check your filter every 6 months at least.
The Dirt Devil steam mop has a clean path technology and multifloor brush roll that enables it to clean hard floors and carpet. Also the 2-in-1 crevice tool easily cleans tight spaces and is especially useful for cupboards.
Shark Steam Pocket Mop (S3501)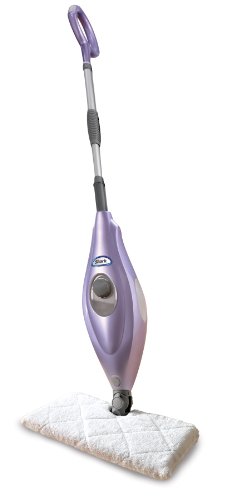 PRODUCT DESCRIPTION
Super-heated steam is ready in 30 seconds and provides 99.9% sanitization on hard floors with no harsh chemicals
On-demand variable steam uses your natural mopping motion to deliver super-heated steam
Shark Steam Pocket technology provides double-sided cleaning with every pad
Superior cleaning, and faster dry times
XL water capacity
Deep-clean and sanitize sealed hard floors–including wood, tile, linoleum, and vinyl–in one fell swoop with the Shark S3501N Professional Steam Pocket Hard Surface Cleaner. Using just superheated tap water and patented two-sided microfiber pads, this lightweight, easy-to-use tool heats up in 30 seconds and automatically releases steam with every push-forward motion. A powerful weapon against ground-in dirt, dust, and dried spills.
I hope that you know how to choose a steam mop? And what are the best steam mops? Please leave us a comment if you have any questions or remarks!