We'll see in this article all the benefits of the Bissell 1940 power fresh steam cleaner. I will list all the advantages and inconvénients so you can decide whether it fits your utilisation or not.
Bissell 1940 PowerFresh Steam Mop Hard Floor Steam Cleaner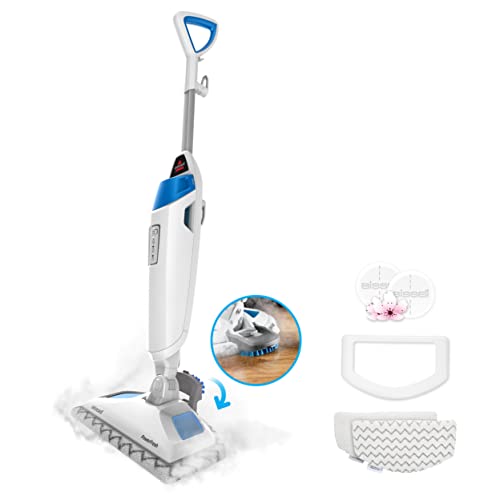 BISSELL PowerFresh Steam Mop, 1940. The Bissell 1940 power fresh steam cleaner offers a deep clean with a fresh scent. This unique steam mop is designed to get deep down into the grout and crevices while leaving a fresh, clean scent while you steam mop.
This fully featured steam mop has SmartSet Steam Control lets you adjust the amount of steam needed to tackle messes. For light, cleaning uses the low setting, everyday messes, choose medium, and for the toughest mess select high. And when you need an extra boost to cut through the dried-on sticky spot, flip down the Easy Scrubber on the mop head. It uses bristles to quickly and easily remove those stubborn messes, getting deep down in the crevices.
The PowerFresh Steam Mop also includes Spring Breeze fragrance discs. Insert the scented disc into the pocket of the mop pad to enjoy a fresh, clean aroma while you steam mop. Simply discard the disc when you're finished, leaving your home smelling clean.
Other features include a 23 power cord, removable water tank and 2 different mop pads; one for everyday cleaning, and one with scrubbing strips. The low-profile mop head also reaches into hard to clean edges and corners.
Variable Steam Control
Getting the clean that fits your needs is as simple as the push of a button with low, medium, or high steam settings.
Built-In Easy Scrubber
Power through spots and deep-clean crevices with the easy-to-use, attached scrubber.
Spring Breeze Scent Discs & Microfiber Mop Pads
Enjoy a great-smelling clean with the included fragrance discs. Or use your steam mop without. Either way, you get a great clean.
Features of Bissell 1940 power fresh
Kills 99.9Percent of germs and bacteria. The flip-down easy scrubber allows you to clean up the toughest messes, grout, sticky and dried-on spots
Microban antimicrobial protection built into microfiber pads
An ergonomically shaped handle and soft grip make it easy to use your mop for extended periods of time without discomfort
Safe on hard floorsGently cleans and sanitizes sealed hardwood, tile, stone, marble, ceramic, linoleum and laminate flooring, SmartSet Steam Control for light cleaning to heavy messes
Sanitizes with steam: Eliminates 99.9% of germs and bacteria when used as directed
Works 2x faster than comparable steam mops thanks to built-in easy scrubber
Smart set digital, variable steam control lets you customize your steam cleaning experience (Low, Medium, high)
Comes with Febreze Spring breeze fragrance Discs for added freshness.
The water tank is located on the top of the PowerFresh Steam Mop. It can be refilled with water anytime during use. Distilled or demineralized water is recommended in place of tap water. DO NOT USE chemicals in the water tank of your PowerFresh Steam Mop.
Steam mop for bare floors: Scrubs, shines and sanitizes your floors for a deeper clean without the use of chemicals
Pros
Easy to put together takes maybe a minute including the time to grab the screwdriver to put the handle on.
Price is beyond reasonable, in my opinion
No need having to buy cleaners again!
Steam is great – heats up super quick and if general cleaning can cover most of my 800 of-of flooring in the about 20 min that the tank lasts (which was a concern because it used to take a good hour with a reg mop!).
Changing/refilling the water if you need to is as easy as pulling it out of the handle and taking the lid off. Takes about 30 seconds to complete the process and be back to mopping.
You can let it "sit" in an area particularly hard to clean and it will also sanitize after about 15 seconds
It gets super hot – yes, it really does steam (much like a new iron does when you press the steam button)
No residue left on the floor.
Worked on the hard tile as well as hardwood floors.
Light -easy to carry upstairs, etc. And has a decently long cord so you don't have to keep unplugging room to room.
Cons
While it fits beside toilets and gets in small spaces, getting the grout right up next to cabinets or walls, etc will prob require some old fashioned getting on the ground and using some "Goo Gone" cleaner and scrubbing. Note, it will clean up against the walls, just not easy to scrub there.
When using your foot to press down on the scrubber be careful! The steam can burn your toes (yes, it gets that hot – which is good!) and can also make them wet so you could slip/fall easily. It took me some practice but so far have still found it the preferred way to go – though perhaps a scrubbing by hand could work as well if you really wanted to go that route (or had kids in need of "making amends").
The microfiber pad bunches up in the front when you push the mop forward. This issue only occurs on hardwood floors, not tiled floors.
Should you buy the bissell 1940 power fresh steam cleaner
The BISSELL PowerFresh Steam Mop Give your hard floors a shiny, sanitized clean with the variable, digital steam control. Armed with the handy, flip-down Easy Scrubber, you can thoroughly clean tough messes. Clean sticky, dried-on spots 2X faster than the leading steam mop with a built-in Easy Scrubber while experiencing whole-room freshness from the optional scent discs. Now clean, sanitized floors are a simple steam away. when used as directed
I relocated right into this home and also have actually wiped the flooring with a dust cloth wipe and also a Swiffer Damp jet two times however the previous proprietor was a hefty cigarette smoker as well as I believe the flooring had a whole lot of build-up on it. I am going to take it to my various other house as well as tidy the cooking area flooring with it nonetheless it has a glossy plastic flooring and also I will certainly allow you recognize just how it does on it. Looking ahead to the following time I utilize it because I have actually cleaned both the rubbing head as well as the routine head currently, wishing it moves much easier on the flooring.