What are the best steam mops of 2022? Our recommendations below:
Steam mops are a modern cleaning solution for busy people. They can be used on nearly any sealed floor material, including tiles, hardwoods, and laminates. Overall, these products are advertised as providing a deeper clean for flooring without the elbow grease or harsh chemicals required by mopping.
Do they live up to the hype? It's hard to tell when you're shopping online. As fellow shoppers, we know how confusing it can be to shop for a new product. When we read user reviews, hundreds of people raved or ranted about the same model. That made us wonder–what's the difference between a great product and a waste of money?
Best Steam Mops of 2022 Reviews
Steam mops have to be powerful enough to do a good job of cleaning, but adaptive and gentle enough to protect the surface it cleans. We'll see a complete guide with details of each model of steam mop and its pros and cons.
Comparison Chart
Best Rated Overall: Bissell PowerFresh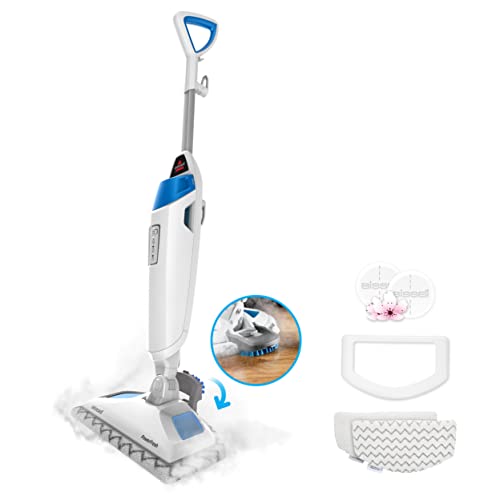 Indeed the Bissell PowerFresh is the top-selling steam mop on Amazon. It's very reasonably priced at less than $100, and one of our least expensive recommendations. With 3-setting adjustable steam and two pads (scrubby and soft), the Bissell Powerfresh is the best steam mop. It does a pretty good job on all flooring types.
The Bissell powerfresh also uses smartly designed mop pads. The best steam mop comes with 2 mops pads that wrap around the mop head with a clipless design. Also, each pad will have a small pocket to place fragrance discs, I recommend the Bissell scented disk and a small diagram to explain how to put the mop pad on. Moreover, the microfiber fabric also uses integrated Microban technology, for additional antibacterial properties. Padded microfiber cloths are great for wood floors. They're soft enough to protect your floor's finish, while the microfiber actually polishes the wood as you go!
The 22 feet power cord length is especially useful if you have a very large area to mop, or multiple rooms that you try to get done at once, this cord should be able to stretch a really long distance for you.
A blue light will blink for about 30 seconds while the water heats up after plugging the switch. When the solid blue light shows up, you can choose the steam level you desire, you can choose between Low, Medium, and High.
The Bissell Powerfresh steam mop water tank is easy to refill and pop it back into the mop, it has a great capacity which helps you cleaning a long time without breaks.
This steam mop is very lightweight and is only 6.7 pounds, making it super easy to maneuver around your house. You also don't have to worry about your water reservoir as it can hold a decent amount of water.
There is also a scrubber piece attached to the mop, if you have hard stains that are not coming out with the regular steaming you can just pop it down with your foot and scrub the area. Combining the scrubber and the steam will help you get rid of almost all your stains.
This Steam mop can be used to clean your carpet, you just have to clip the carpet glider that comes in the box and just go over your carpet the same way you would do for your tiles or hardwood floors.
We especially love the extras and tips that are coming with the mop. The first and main thing is it is a cleaning solution that doesn't use cleaning chemicals and doesn't drop any such products on the floor, particularly useful when you have children, pets, or both. Nonetheless, the Bissell Powerfresh steam mop kills 99.99% of the germs thanks to its hot continuous steam. That's another reason why it is the best steam mop available.
It does an amazing job cleaning, if you have not used this before you will be amazed. It just does a great job getting things above the floor aways. We would have never expected a steam mop to do.
It doesn't leave the floor sticky nor leave behind residue whatsoever, indeed this is a great advantage compared to the Swiffer wet jet that many people are using. With a single appliance, you can do both cleaning and rinsing. Even though the Swiffer wet jet cleans well, you'll mostly need to mop your floor again with water to remove all the stickiness. Furthermore, within no time, your floor becomes dry, and this is a huge thing. Talking about drying time you could consider approximately 10 mins, and if your mopping with a regular mop or Swiffer it will range from 15-20min to 1hour depending on the surface. This is particularly annoying when you want to roam around your house right after cleaning.
It's a bit more versatile than the O-Cedar or Shark Genius Steam Pocket Mop since it comes with a scrubber brush and special scrubbing mop pad for working on tiles. It's a good choice if you have a variety of flooring types. The Bissell steam mop also has a very long power cord length of more than 23 feet that helps you move easily.
Since it's so popular, there's plenty of user feedback on the online marketplace. This has given Bissell time and incentive to address a few early issues with the PowerFresh. While early versions of this model had mixed reliability, recent reviews suggest that quality control has improved.
All these elements are making it clearly the best steam mop of 2022.
Best Easy to Use: Shark Genius Steam Mop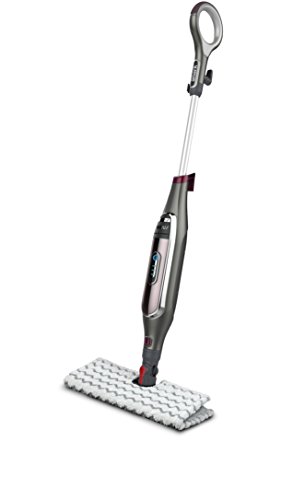 The biggest selling point on the Shark Genius steam mop is the value for money and simple design. The shark Genius hard floor mop has two separate mop heads included, so you can choose between the wide coverage of a rectangle or the specific corner cleaning of a triangle
You'll find inside your bow a handle, a body, 2 steam mop heads, 2 dirt grip pads, and a filling flask.
The process of removing the cleaning pads from the steam pocket mop is super easy. Lift the steam pocket mop gently by the handle until the genius mop head is hanging straight down. Press the release button on the back of the steam mop body, and both sides of the head will drop by releasing the pad.
To plug it back on just slip the steam pocket mop head to the corner pockets of the pads, gently press on one side of the mop head till it clicks and do the same on the other side. The water tank is easily refillable thanks to the filling water tank.
As with most of them the steam pocket mop, there are 3 settings for steam cleaning, Low, Medium, and High. After plugging the steam mop it will naturally come to the low mode. You can press the button once for medium and twice for the high setting on your steam pocket mop.
If you are stuck on stains and need some extra steam you can use the steam blaster feature, just flip the head over so it is behind the mop body then put the mop handle down. This will cause a concentrated blast of steam from your steam pocket mop on your floor. Then flip the mop head back to its original position to continue steam cleaning.
Both steam pocket mop heads come with two sets of pads, so you can cycle them through your laundry. Furthermore, the steam mop cleaning pads are also unique in that they're double-sided. That means they'll cover twice as much ground in a cleaning session. In short, you're saving time and money!
After steaming just wait till the dirt grip pads get cooled down, remove them from your steam mop and machine clean them separately with warm water with liquid detergent, no bleaches, fabric softener, or powder detergent as they can damage the pads and reduce their performance.
This one is built to last, with a metal wand and sturdy construction. The steam power is adjustable, so you can turn it down to protect your finishes and turn it up to remove tough stains. Furthermore, there are 3 settings of variable steam to suits perfectly for each application. While it's not as effective as the Bissell steam mop on tile, its rag-mop style cloths do a decent job of cleaning in between tiles.
Best Multipurpose: Pur Steam Mop Cleaner 10-in-1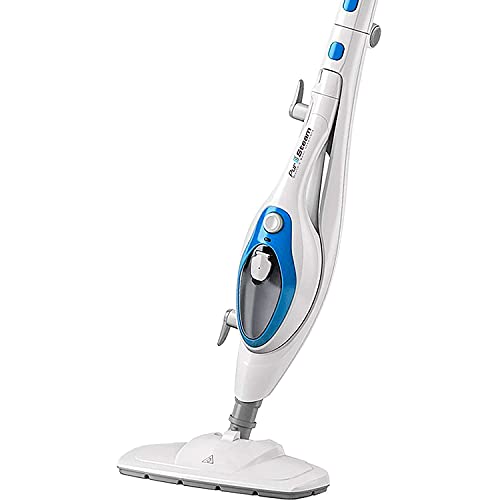 The Pur Steam Mop Cleaner 10-in-1 as its names explain is a great multifunction tool, this brand is less known than Swiffer / Shark and Bissell steam mop but should grow in size over the next few years as they are making great quality steam appliances. They have a complete range of humidifiers, travel steamers, irons, garment steamers as well as handheld steamers. Till now the only way to buy the products are on Amazon, when looking at their reviews we can notice that people are very satisfied with the products and it's quality. The steam mop is imported so we guess that it comes from Asia but we couldn't find the exact information, if you know we'll be happy to hear that!
Why should you buy the Pursteam Mop Cleaner ?
The steam mop TermaPro 10-in-1 is engineered to make our life easy when it comes to cleaning. With a single appliance, you can steam your floors, but also use it for your clothes, windows, and mirrors, countertop, and many more. The flexible hose helps to direct the steam flow where you need
The steam mop provides 99.9% sanitation relying only on hot water steam, it is enough to kill bacteria, germs, and dust mites. You can use both distilled water or regular tap water. If you decide to go with tap water make sure you are not getting hard water. You can also opt to distill your own tap water with this simple method:
How to distill tap water?
Fill a stainless pot of 5 gallons with tap water up to halfway.
Put a glass bowl in the water making sure it floats and not touching the bottom. You can also find a kind of platform like a baking rack to put underneath the glass bowl.
Put the pot to boil on the stove, this will kills germs and bacteria.
When it's done invert the lid and pour ice cubes in the cover's hollow.
This cold/hot barrier will create condensation
Continuing to boil the water will help the steam hits the cool lid and condenses into the glass bowl.
Keep the process going until you collect the desired amount of distilled water.
Turn off the stove and let it cool down. Then take out the glass bowl and let the distilled water cool down further. Once it's done you are free to use it in your water tank for the best steam cleaning power.
If you decide to steam cloth, especially white clothes, and want to make sure your not getting any stains on them you should use distilled water.
The steamer comes with a special surface scrubber similar to the Bissell Powerfresh one, this is ideal for glass, sealed stone, stainless steel, and sealed grout and tiles.
The Pursteam Thermapro 10-in-1 steam mop has 3 levels of steam that will suit all your surfaces, from a sealed laminate floor to hardwood and tile.
It has an 11 Oz water tank that is enough to clean about 25minutes on a low level or 10 min with the maximum steam level. You can use it on vinyl, marble, tiles, ceramic, porcelain tiles glass fabric, and many more. If you have doubt about the ability to clean a specific surface just read the technical notice from the steam mop and/or your floor manufacturer website.
The special triangular shape head makes it easy to reach corners and helps you steam clean hard-to-reach areas in your home.
Pursteam offers a FREE Replacement Policy and a 2-year warranty to make your purchase 100% risk-free. The steam cleaner is imported and the manufacturer is following a strict quality control policy in the factories, therefore, reducing the chances of damages after a few months of utilization. As one of the best steam mops, it comes at a certain cost that you can consider as an investment because you will save a lot on detergents and cleaning solutions in the long term.
What does the kit include?
There is a bunch of accessories coming with the kit, which makes it quite difficult to understand at the beginning but also makes the steam mop really the best multipurpose steam mop available on Amazon. Here's a list of all accessories included
1 Steam Mop Unit (With Built-in Handheld Steamer)
1 Window Squeegee
2 Mop Cleaning Pads
1 Straight Nozzle
4 Nylon Brushes
1 Bent Nozzle
To plug a specific brush on the head you just have to slide it until you hear a "click" that indicates it is ready to use. We recommend trying all the nozzle and accessories to determines which one fits best your needs. One drawback is that the manufacturer notice book is not so straightforward when it comes to all nozzles and attachments.
What issues you can face with the Pursteam Steam Mop?
Even though is it one of the best steam mops it has a certain amount of drawbacks that are listed below:
-The power cord length is too short, 16 feet is less than the average 22 feet for this type of steamers, Though it is enough for a single room or a small house you might have to plug and unplug it frequently.
-The brushes are not durable, their bristle tends to get damaged when doing a hard scrubbing. Hopefully, the kit contains a few brushes as it is quite difficult to find highfiderev06-20nt parts.
-The steam mop pads sometimes don't glide flawlessly, in order to avoid it you will have to control the force you are putting in each movement.
-The handheld part is too heavy, making it tiring to iron and clean for a long period of time. Reducing the amount of water in the tank will help lighten it up.
-When the water tank is getting low the steam tends to slow down. This is due to the fact that the suction doesn't happen in the right way.
Best for Pet Parents: Bissell PowerFresh Lift-Off Pet Steam Mop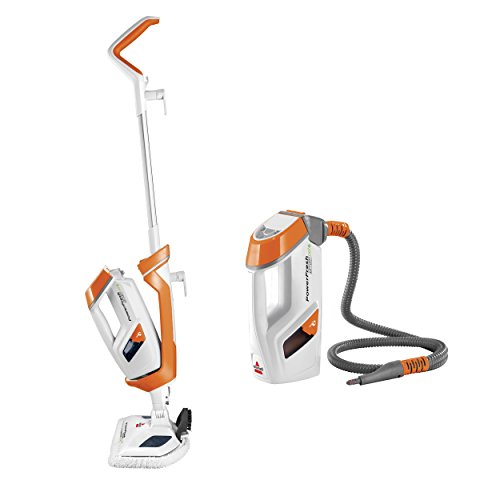 The Bissell Lift-Off Pet is our top quality recommendation for tile floors, it is the most powerful pet steam mop that Bissell has ever made. Bissell is one of the most trusted mop brands for years and that's mostly because of its constant quality and affordability.
We love it for its tile scrubbing abilities and long warranty. The mop head is equipped with a snap-on scrubber brush, which is perfect for reaching into the grout, as well as scraping off tough spots like crusted food or gum. You can use it on your vinyl, linoleum, tiles, sealed hardwood floor, and marble.
The triangular steam mop pad head is great because it can fit any corner. Just imagine that underneath your cabinet, maybe in the kitchen or the bathroom, you can move it easily under. Also, you are going to get the constant head from room to room while mopping. This is the difference between the old stinky mop and bucket and this hi-tech steam mop cleaning solution. The traditional mop is just dragging the messes around, whereas when you use a steam mop you are lifting it. Steam cleaning your floors is also easier. Because it is easy to move around your house, you don't need to carry on your hot water bucket with harsh chemicals inside.
Just by pushing a button, you will release the handheld steamer, it is so easy and convenient. With the same digital controls and steam, only you can clean anything other than your floor. The handheld steamer comes with 3 brushes, a black, a red, and a green one. The color code is great as it makes it easy to have a special brush for the bathroom, kitchen, or any other stuff.
Just with blasted steam, you can have such powerful germs and bacteria remover. Knowing that kids put anything in their mouths. Using this pet steam mop allows you to clean pet hair, children's toys, and any other thing you want with a deep cleaning. A good hack that this steam mop offers is to clean your trashcan may it be in stainless steel or plastic you can clean it without touching the dirty one thanks to its touch-free technology.
It also comes with special scrubbing pads. All the mop pads stretch to fit over the head, so you don't have to use any clips, catches, or brackets. These parts are often delicate and annoying, so that's a plus for us!
It's also very versatile. The Lift-Off features let you make full use of a 13-piece attachment set, and provides plenty of power to back them up. It's also one of the only options with a padded fabric attachment for upholstery and curtains. Because it has adjustable power of steam, it's also suitable for wood floors!
The Bissell's pet steam mop warranty is extra-long, at 2 years. That's at the high end of warranty coverage for this kind of product. Reviewers had very few complaints about this updated model. It's more powerful and more durable than its predecessor. Plus, there are intelligent new features like stain removal, steam alert lights, and odor removal with Febreze scent discs!
Best Heavy-Duty: Dupray Neat Heavy Duty Steamer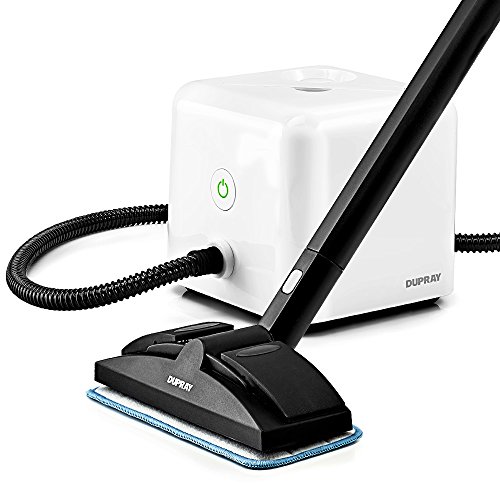 Now we'll review the Dupray Neat Heavy-Duty Steamer, for this section we were comparing it to the Mc Culloch Delux Canister Steam Cleaner but choose the Dupray as the best heavy-duty steam mop for the reasons listed below.
First the box contains the lead steam mop cleaner with its integrated steaming hose, the steam lines, multiple cleaning brushes, the extension tubes, the floor, the triangular, and the window tools. The microfiber bonnet, cloth, pads, and the fragrance disk.
You can fill the steam mop with up to 54 ounces of water as it has large water tank, for this you can use tap water or go for the demineralized water. We would suggest going with demineralized water only if you have some hard water issues in your house. Do not use chemicals, oil, soap inside the water boiler.
The steam mop is very easy to use with a clear and designed power button. It takes approximately 8 minutes for the water to heat until the steaming point. This is better than the Mc Culloch counterpart which has a heating time of 12min. When the light turns green you can use it. You have to be extra careful when turning it off as the container is pressurized, the best is to let it cool down and released the extra pressure by pressing the trigger.
This steam mop has a lock system on its trigger that helps you steaming for a long time without having to hold the steam button forever. When it comes to accessories, you have a bunch of them available. The floor tool is the most versatile and can be used on a variety of floor surfaces. You can use the microfiber pads provided by Dupray or a regular piece of microfiber cloth. Indeed the steamer head has 2 clips specially designed for that. The add fresh discs can be placed in the middle of the cleaning cloth after breaking them in half to release the scents.
The triangular tool is used mostly to clean and sanitize: car interiors, mattresses, couch, and any surface thanks to its bonnet. The steam mop lance can be used with or without brushes and works very well for cleaning grouts. You can opt for nylon bristle for delicate surfaces like marble, tiles, or glass and brass brush for scrubby surfaces like stone or barbecue grill.
Ultimately the machine doesn't need a lot of maintenance, just drain the boiler after approximately 20 hours of usage if you are using tap water. Then fill the steam mops with half vinegar half water and let it sit overnight before rinsing it.
Best Versatile: LIGHT 'N' EASY Multi-Functional Detachable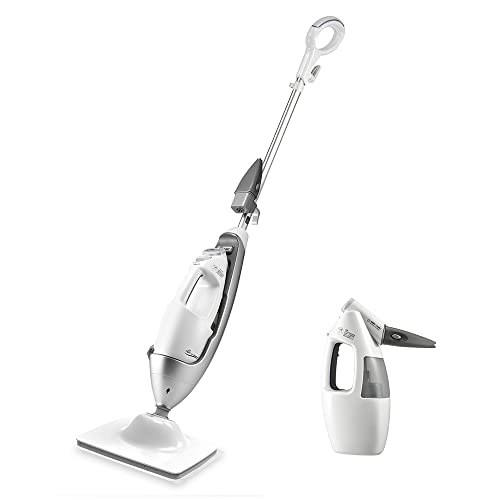 The LIGHT 'N' EASY Multi-Functional Detachable comes from a brand that's been making high-quality cleaning equipment for years. It is without any doubt one of the best steam mops of 2022.
It releases steam at the touch of a button, that is making it easy to handle. The steam comes approximately 20s after the device is switched on.
There are 3 settings of steam, High, Medium, and Low for various floors like marble, tile, grout, ceramic, stone, laminate, vinyl, and sealed wood flooring.
The 212° F heat removes dirt and sticky messes. The steam is made from tap water which makes it safe for children and pets. Like other steam mops, it is much more eco-friendly than traditional mops.
The steam mop smart switch helps you, when it's placed upright it stops the steam. This functionality is essential when you have children and leave the steam mop to answer calls.
You have detached handheld steam cleaner from the kitchen and upper furniture cleaning.
The microfiber pads are tripled layered. This helps with the absorption of messes and reduces friction between the mop and the floor. It can be used on different surfaces such as hardwood floors, tiles, grout, laminate, vinyl, wood, and carpets (to clean the carpet you need to purchase a carpet glider separately). The steam mop pads can also be washed more than 300 times, thus reducing the maintenance cost of this appliance.
Light "N" Easy steam mop offers a 1-year warranty + a free highfiderev06-20nt policy
Best Affordable: Shark Steam Pocket Mop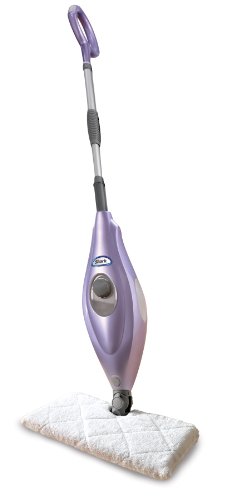 The biggest selling point on the Shark Pocket Mop is the value for money. There are two separate mop heads included, so you can choose between the wide coverage of a rectangle or the specific corner cleaning of a triangle.
Both mop heads come with two sets of pads, so you can cycle them through your laundry. Furthermore the mop pads are also unique in that they're double-sided. That means they'll cover twice as much ground in a cleaning session. In short, you're saving time and money!

This one is built to last, with a metal wand and sturdy construction. The steam is adjustable, so you can turn it down to protect your finishes and turn it up to remove tough stains. Furthermore there are 3 settings of variable steam to suits perfectly for each application. While it's not as effective as the Bissell on tile, it's rag-mop style cloths do a decent job of cleaning in between tiles.
Best for Hardwood flooring: Reliable Pro Steamboy Steam Floor Mop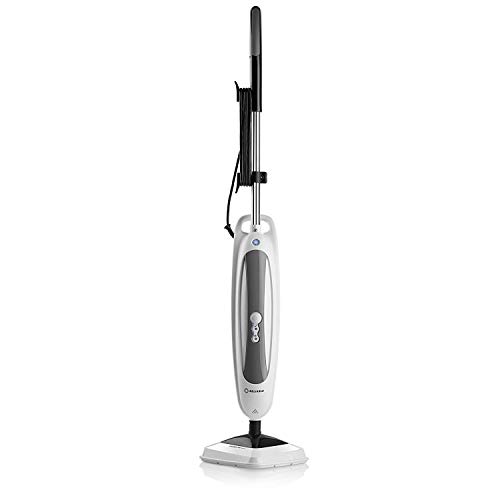 Reliable Steamboy 300CU steam mop is a great mop comparable to others Bissell and Shark when it comes to steaming but especially useful as a hard floor cleaning system thanks to its 180° swivel steam head. This feature helps to steam under chairs, tables, and other pieces of furniture.
The long power cord is important as it enables you to move in multiple rooms without having to unplug it. Moreover, the ergonomic handle makes it a preferred choice when you need to do long cleaning as some steam mops are difficult to hold for more than a few minutes.
Why Steamboy is the best hard floor cleaning system?
First, it is the removable water tank and its anti-scale cartridge. While some people don't think a removable water tank is a must I do believe that refilling is easier when you can take it under the water tap directly. It avoids having to use another bottle in between. Also, the water tank is transparent so you can see easily when it runs out of water. Having said that you can steam clean for around 25 min continuously with a full tank which should be enough for most houses. The anti-scale cartridge is great to prevent lime buildup and therefore increase the lifespan of your steam mop as well as your flooring.
Secondly, the ergonomic handle is curved and really helps with hand fatigue when steaming for a long time.
Furthermore, the steam mop On/Off button gives you some relief when you need to take a call or receive a delivery. Other steam mops don't have the same feature and the steaming is always on once it is plugged. This one gives you the desired flexibility when looking for a hard floor cleaning system.
Finally, the steam mop 180° Swiveling head is a must when it comes to steam areas where you have various pieces of furniture. It gives you access to hard-to-reach areas with its 11 inches cleaning path.
Best Cordless steamer: Bissell SpinWave Cordless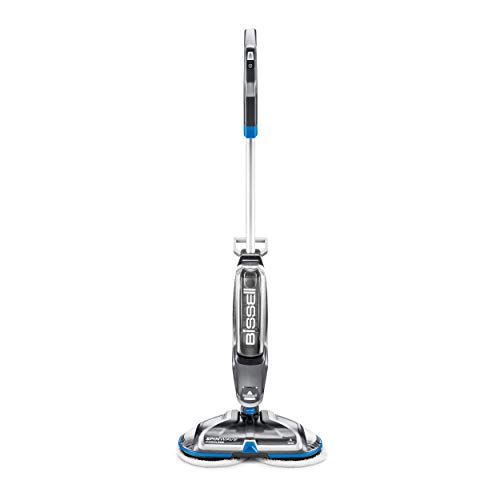 The Bissell Cordless Steam mop is very simple to assemble. Indeed, there are only a few parts with a clear notice. The steam mop kit comes with 2 sets of cleaning pads, the soft-touch pads for a regular surface, and the scrubby pads with are designed to scrubbing difficult stains. The scrubbing is not recommended on Hardfloor floors. Both microfiber pads are machine washable and can be used for approximately 6 months. You can order additional pads for about $20 on Amazon.
As the steam mop cordless name mention, the steam mop works on the battery. You need to charge the appliance for 4 hours before getting it fully recharged. There is a clear blue button to show you when it is fully charged. For sure the manufacturers recommend doing full charge cycles but you can also charge it for a short period if you forgot to plug it before and need to mop your house! The steam mop can work for 20-25 min which is enough for most of the house mopping. If you are using it for work on huge surfaces it might be limited in autonomy. The water reservoir is great as it shows clearly what level of water and formula needed. This steam mop can work with water only or a mix of water and formula.
The mops are spinning in order to give some rotational strength in order to ease the cleaning. You have a total control of the solution going on the floor with the on-demand spray.
Furthermore for each purchase BISSELL supports its Bissell Pet Foundation which help to save homeless pets.
Best Lightweight: O-Cedar Microfiber Steam Mop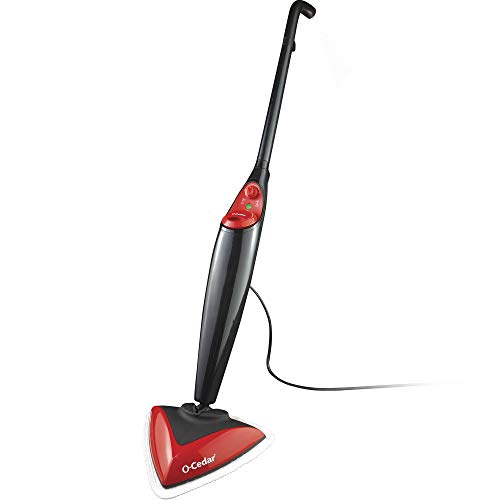 The O-Cedar is our top-quality choice for wood flooring. It's perfectly equipped for cleaning hardwoods of all sorts. Its mop pads are highly cushioned, and wrap around the mop head to protect the molding around your floors, as well as the floors themselves. The steam mop head is also triangular, which helps you clean into corners much better than a traditional rectangle.
Why should you buy the O-cedar microfiber steam mop?
It's a great machine as it takes only 20 seconds to produce steam after plugging it in. It only weighs 5 pounds and is one of the lightest steam mops available on the market. This is particularly interesting if you have stairs as other steam mops can be quite heavy! It swivels and glides across your floor with ease. Also, the steam power regulator helps you choosing the right steam level for your floor, from min to max you can decide the exact amount of steam you want.
The manufacturer guarantees the 99.9% bacteria killing percentage, it was tested especially on E-coli germs and bacteria, and dust mites. The triangle head is perfect for corner cleaning and allows you to clean hard-to-reach edges.
The cleaning pads are machine washable up to 25 times, which is a bit low for these types of pads but it is worth noting that these pads have undergone special development and have a better cleaning power. If you want to save on cost you can use the pads up to 50 times but after this, the cleaning power will not be as effective resulting in a waste of time while cleaning. The O-Cedar Microfiber Steam Mop Refill Pads are extra absorbent, so your floors dry faster! When ordering the steam mop you'll receive 2 microfiber pads, they contain a unique weave pattern that allows steam to penetrate quickly and gives an optimal floor cleaning. The steam mop microfiber mop pads attract dust, dirt, hair, and bacteria better than any traditional cotton pad. Furthermore, the water tank is easily refillable.
Adjustable control helps you cater the mop's steam level to your specific flooring. That's especially important when you're trying to preserve hardwood finish. Plus, the simple selection knob provides a constant base level of steam, so you won't have to keep holding down a trigger.
Previous buyers loved the O-Cedar steam mop, writing that it's deceptively light, easy to use, and leaves very little moisture behind. Furthermore, it comes with a glider attachment for refreshing and spot-cleaning carpet gliders. It has an impeccable record for durability, and comes with a 2-year warranty, which is almost unheard of for a model at this price!
Best Vacuum steamer: Bissell PowerFresh Vac & Steam All-in-One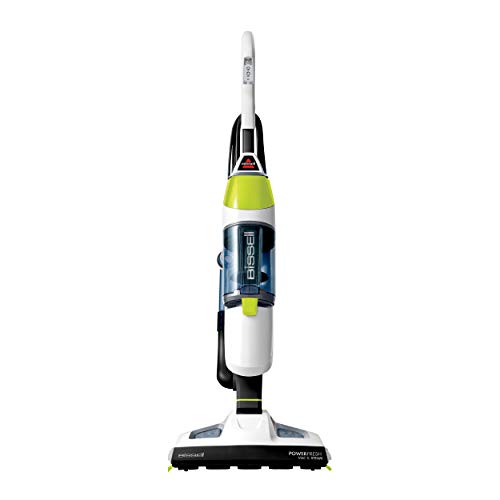 The Bissell Powerfresh Vac & Steam is just amazing. The machine is super easy to assemble. Just plug the lower foot into the main part then adjust the handle to your height with the clip.
It comes with 3 options, vacuuming, steaming and vacuum, and steam mop at the same time. The Bissell Vac & Steam is weighing about 10 pounds which are approximately double the weight of a regular steam mop. Nonetheless, it helps you cleaning your floors so quickly as you can do both actions at once.
The Bissell comes with 1 machine-washable microfiber pad, the first one is soft and the other one has more scrubbing power, a measuring cup to refill water, and 2 fragrance discs that you can include inside the cleaning pads. Lastly, an anti-calc water system will prevent lime water to clog the vacuum.
The machine gets hot in merely 24 seconds, and like other steam mops can clean with the use of chemicals and bleaches. Furthermore emptying the vacuum bag is quite easy. Just remove the dust container from the vacuum and tip the contents into a bin.
In the drawbacks, we can say that the power cord is making it more difficult to mop than the cordless steam mops and that using both vacuuming and steaming at the same time isn't really working well. Unfortunately, there is no carper glider, but you can clean carpets and rugs just by removing the cleaning pad from the vacuum steamer.
You can consider that you'll save approximately half of your cleaning time by using this steamer even if you are using the vacuum option first then go for the steaming afterward.
How did we do to select the best steam mops of 2022?
We spent hours looking for the best models available and especially the best steam mops of 2022. Also we looked for the best steam mops of 2022 on the market, comparing dozens of models and keeping in mind different budget requirements, flooring types, and household messes (pets, kids, etc.) Then we compared features, specs, user reviews, and expert analysis from Consumer Reports, Good Housekeeping, and other publications.
In the end, we're confident that we've found a few solid choices that really do live up to the hype! It's all about finding the right one for your individual floors. We'll guide you through which features are best for each flooring type, and help you narrow down your search.
Finally we've selected a few top choices for wood floors and tile floors. A few of our choices are crossover mops, with attachments that let you use them as handheld cleaners all over your house. All of these options stand out for their smart design, powerful steam units, and durable materials.
On this page, we've provided some quick overviews of all our favorite products. We'll talk you through the basic features, and give you a general sense of what each is good for.
Below our steam mop reviews, we'll introduce you to some of our other favorite cleaning machines which allow you to use steam on all sorts of surfaces, like kitchen countertops and bathroom fixtures!
How Do These Work?
With a base layer of steam keeping the mop pad wet, these mops eliminate a lot of the friction you encounter with a traditional stick mop. The mop head glides along the floor, loosening dirt with steam and heat rather than relying on scrubbing. You can hover over a spot to give it more steam, and then gently scrub away the spot.
These also have cloth pads, like a normal mop. They're generally a bit more sophisticated than the manual version and are made from microfiber or chamois. Some pads also integrate anti-bacterial coatings to help trap and kill bacteria. You can wash and reuse mop pads for a variable amount of time, depending on the company.
What Can They Clean?
Basically, any sealed floor surface. These are an effective tool in your cleaning arsenal for laminates, tiles, hardwoods, and pretty much any other flooring you can think of. They're not designed to clean whole carpets, although some models have attachments for spot treatment and "refreshing" small areas.
Some models include "lift-away" or "lift-off" features. This lets you use the unit without the wand or mop head. It gives you a basic handheld steam cleaner, which you can use with the included attachments for surfaces like countertops, plumbing, and kitchen appliances.
These attachment sets are generally pretty good, but they're not as heavy-duty as a full-sized canister cleaner. Expect them to do a decent job for light cleaning and maintenance on most surfaces. Also, some aren't as powerful in the handheld mode.
Why Are They Better Than A Traditional Mop And Bucket?
These use pressurized, high-temperature steam to sanitize flooring surfaces, killing harmful bacteria and biological matter, and reducing residual bacteria and mold in cracks of tile floors. This type of soapless cleaning saves you money since you won't have to buy cleaners. It's also a safer, more eco-friendly way to clean your floors.
They're a powerful tool for chemical-free cleaning. Because they don't use any harmful chemical cleaners, eco-minded consumers can rest easy while still cleaning with maximum effectiveness. Steam also reduces exposure to allergens in cleaners and eliminates the risk of your pet ingesting toxic chemicals.
These don't rely on a bucket of water, which can get dirty as you clean and leave streaks and muddy spots on the floor. With it you won't have to deal with your mop water cooling as you clean, and you'll always have full heat for breaking down stains and dried spills. You'll also be leaving a lot less moisture behind.
Moreover you won't have to use nearly as much elbow grease. Steam dissolves or loosens pretty much any floor mess, so you'll just have to keep moving the mop head back and forth to wipe things away.
How Do I Know If My Floor Is Sealed?
If you're not sure if your floor is sealed, there's a good chance it isn't.
Linoleum and laminates are usually a safe bet for steam mopping, as are new tile and hardwood flooring. Older tile can develop cracks along the grout or pockmarks in the sealant. Older hardwoods frequently have cracks between boards, which can let moisture seep into the base of the flooring. Make sure you check your floor's warranty or get someone who knows what to look for to double check for you.
What Can Happen If My Floors Aren't Sealed?
Wood floors can warp and buckle. These mops can also mar or destroy the finish of the wood without a proper sealant. Water can seep between tiles and create mold in the floor support beams and cushion with tile floors.
Even if floors are sealed, they're not necessarily designed to be cleaned with a steam mop. Some finishes can be destroyed or removed by this kind of cleaning, so please check your manual or call the installer first if you're not sure.