We will see here how to steam mop laminate floors. It is a question broadly asked and few people actually know the exact answer. Make sure you read well this page in order to maintain properly your laminate floor
Can you steam mop laminate floors?
What's Laminate Flooring
Laminate flooring is one of the easiest floor coverings to maintain. First it stands heads and shoulders above carpeting or hardwood in the care department. Who wants to spend hours vacuuming, steaming, removing stains or re-surfacing? Especially when a few simple tools and a moment of your time will do? Here's what you'll need to maintain the look and life of your laminate floor.A good broom or dry-mop, dust-pan and strategically placed door mats work for every-day care. Door mats catch a lot of dirt before it gets tracked through the house. Furthermore daily sweeping or dry-mopping of your laminate will catch most of what remains.
Wipe up spills immediately with a dry cloth or dry-mop. Surely moisture is one of the most harmful things to have on your floor. Therefore minimal amount of water and a slightly damp mop will work to remove most stains.
Invest in an ecological cleaning kit from a reputable laminate flooring manufacturer such as Bruce or Armstrong. A good kit will come with an adjustable broom handle for getting under beds, a removable, washable micro-fibre mop head, and a mild, environmentally friendly spray.
Use wax colour-fill matched to your flooring to hide any small chips that may appear over time. Indeed the same product is used for the same purpose in wood floor coverings.
Nonetheless laminate doesn't require heavy cleanser or chemicals to maintain its' beauty. A bit of water, a dry-mop or broom, a gentle manufacturer-recommended spray and some regular sweeping and elbow grease are the main ingredients needed. Environmentally friendly products work well on laminate–it doesn't need the hard stuff to maintain a clean, fresh look which is a big thumbs up in these green-conscious times.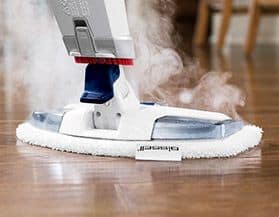 Why it is RISKY to steam mop on laminate floor?
Laminate flooring are composed of a very thin wood sheet on the top of a Medium density fiber board or MDF. This last material is made from wood but has literally no resistance to moisture. Steam mop use moisture to clean. Any humidity coming in contact with the MDF will ruin your floor.
Steam mopping on laminate floors isn't recommended by floor manufacturers as it can reduce its lifetime.
Nonetheless you can steam mop on laminate floor if it well sealed. This can be noted if you can fell a fine film of paint, also called topcoat paint, on the floor. Touching with your hand will help you fell if you notice any gaps between laminate slates. If you are confident that your floor is sealed you can steam clean it with caution.
If you wish to know what steam mop to use for laminate floor you can read the guide below.
What's the Best Steam Mop for Laminate Floors?
Using a steam cleaner/mop is the best way to get a chemical-free cleaning. Unfortunately steam cleaners are not always suited for laminate flooring, as the steam heat may warp the laminate. With a steam cleaner for laminate floors, collecting the dirt and dust from your floors will be a breeze.
How to Choose The Best Steam Mop for Laminate Floors
Your steam mop needs to be able to clean laminate floors without swelling the seams, or causing any damage. Much like you wouldn't want your hardwood floors to get damaged if you had those.
Knowing which steam cleaners will actually work as advertised, if especially difficult, when doing your own comparison shopping.
Especially if you are new at caring for laminate floors, and don't know which steamer for laminate floors is best. You should look for a few things when buying a steam mop for laminate floors.
Multiple Settings
It is important to be able to adjust your mop to release multiple levels of steam whether it's multiple floor cleaning settings, or multiple steam release settings. Indeed laminate floors need less steam for a regular clean. This will allow floors to be sanitized, while not damaging them.
You can still use more steam for any tough dirt build-up on your floors without issue. Multiple settings options allows for the best clean, with the least amount of damage to your laminate floors.
Tank Capacity
A very important factor when buying a laminate floor steam mop is a water tank capacity. Basically constantly refilling the water tank will alter the good flow of steam. The bigger the area to clean the bigger steam mop water tank is needed.
The larger the capacity, the better, especially for those with a lot of surface area to clean. However, the ones with a large capacity still need to be able to reach and maintain temperatures.
Economy
Steam Mopping laminate floors is already economically friendly for your floors. Indeed you are able to get sanitized floors with water, instead of harsh chemicals.
Although steam cleaning is a a good bleach and chemical alternative. If the cloths on your steam cleaner are machine washable you can save money instead of replacing them every so often. They will prove to be beneficial once your steamer is purchased even if they seem only a small benefit now.
Maximum Temperatures
When you start to clean, you want your steam mop to be hot when you need it to be, and that it can get as hot as possible. If you plug it in, and it's not hot within a couple minutes, then you might have to spend more time waiting than cleaning.
Besides heating quickly, the maximum heat level should be quite high to successfully kill all the germs and bacteria that live on your floor.
What do I think
Under the cabinets in my kitchen is that part of floor the normal mop could barely clean. Grime would slowly build up and the only way to fix that was paper towels, spray, and hands & knees. This steam mop – Cleaned MONTHS OF FILTH in minutes.
It took a long time for me to figure out how to mop properly. I used one of those sponge mops (which you can pull back into itself to ring out the dirty water). I 'd rinse the mop at least 20 times during once mopping even in a moderately sized condo.
My mop broke and I went to replace it. If it were metal you 'd never use it. This light design is just right and about 1/4th of the work of the Rollomatic.
My vinyl floors seemed always dirty and a regular mop never got them clean, just swished around dirty water. After unpacking the mop this morning, I put it to the test. YES, my floor was much cleaner and the mop worked effortless.