Can you steam mop hardwood floors? This is a tricky question, and plenty of people will give you different answers. You can be sure that floor manufacturers will tell you no and Steam cleaner ones will give you the green light. The simple answer is NO except if you are confident that your floor is sealed.
We'll see on this page how to know if your floor is sealed or not. Also how steam cleaning can affect it. Steam mops are a great appliance, it can help you save a lot of time from the traditional mop and bucket cleaning. It does have a lot of benefits like cleaning with 100% water steam instead of chemicals, killings germs and bacteria, and high cleaning power.
How to know if your hardwood floor is sealed or not?
To know the best methods and practices of steam mop hardwood floors, you would have to understand the anatomy of a hardwood floor beforehand.
What is a hardwood floor?
As the name suggests and hardwood floor is made from wood. Flooring and paint are two things that are capable of changing the design of a room and relatively easy to change. We consider hardwood as a great flooring. It is warm and gives you a nice feeling when you walk barefoot! Indeed hardwood floor is different from carpeted or tiles flooring. As it comes from a living tree, it is often more expensive but shows a good resistance over time. The 3 types of hardwood floors are solid wood, engineered wood, and acrylic impregnated hardwood.
The first one is the solid hardwood floor which works great for homes with a basement. It is very sturdy with a lifelong warranty if taken care of properly. The color change is possible and will give a new shine to your flooring after a few years of utilization. Although the cost is high you will be able to keep it for a pair of decades at least. We generally prefer investing once for all and keep it rather than changing or preparing it every year.
Engineered floors are relatively new and are more popular because of the price factor. It is indeed way cheaper and can give a close result. The slates of engineered wooden floor and made with wood chips like plywood with a veneer on the top. There are several engineered wood floors which various prices. The last type is an acrylic hardwood floor that is similar to the engineered one. But with high-strength acrylic injected inside to increase durability. It is the most common for malls, stores, restaurants, and other places with a lot of traffic.
What is the difference between sealed and unsealed floors?
The main difference between a sealed floor and an unsealed one is the coat that is placed on top of the wood. The sealer protects the floor mostly from humidity, water, and cleaning chemicals. Most of us know that hardwood floors are very weak against water damage, moisture, and chemicals. This is why using a steam mop on hardwood is risky. Having said that you should not be worried if your floor is sealed as it will not be prone to the same risks. To know if your floor is sealed just pour some water between 2 slates. If the water is getting into space then your floor isn't sealed. This should just be taken for information purposes. To cross-check you can have a look at your floor manufacturer's website and they'll be able to help you.
Why do you need to seal your floor?
Sealing your floor is helpful to protect it and increase its lifespan. Usually, the sealer is applied only once at the beginning but some flooring might require a re-coat from time to time, an average of 5 years is considered safe by the manufacturer's but depending on your utilization you can extend this time. We usually consider 10 years as a good time to change the sealer. While changing the sealer you can also stain the wood to change its color and have it look new.
How to steam clean a sealed floor with your mop?
Undoubtedly, a steam mop is one the best and most practical cleaning tools, but its use or employment may make a big difference in the quality and efficiency of cleaning. This is an innovative and time-saving floor mop, but to get your floors crystal clean, you will have to do some preparation work in advance.
Vacuuming
If you want to get the best cleaning results, you will have to remove dust, grit, or loose dirt from the wood floors before using a steam mop. So, before getting started with cleaning hardwood floors with steam mops, sweep or vacuum the floor beforehand to get the greatest results. However, if you don't have a vacuum cleaner, you can sweep the floor using a damp towel, or any other related mopping tool such as a broom to wipe away the dirt from the floor. The purpose of sweeping or vacuuming the wood floors before steam cleaning is to clean the dirt and dust from the corners and cracks so that the mop pads could be saved from damage caused by heavier dirt.
You can find in the market several models of steam mops with dual-functionality that can be used to clean/sweep the small amounts of mess and dirt from wood floors. Such dual-function steam cleaners even don't require you to use a vacuum cleaner or another cleaning tool. Yet vacuuming is very important before steam cleaning hardwood floors as it removes heavy dirt from the floor and ensures cleaner streaming by keeping extra dirt off the mop pads.
Set-up
Other prep work that you need to do before starting the steam cleaning, could be setting up the pads of the steam mop. You should have many pads with you so that you could change them to avoid smearing or trailing dust. Mop Pads can be easily found in the market at a reasonable price. You can wash them in a washing machine just like a piece of cloth, and hung them to dry. So, it would be wise to keep a sufficient supply of mop pads to have a great experience of steam cleaning hardwood floors.
Steaming
After cleaning the dirt and debris from your wood floors, you can go for steam cleaning the hardwood flooring. For this purpose, you will have to attach a pad to the foot of your steam mop, fill a sufficient amount of water in the reservoir, and turn the mop on for cleaning the flooring surface. Frequently check the mop pad and replace it when it grows dirty. The effective way to clean the flooring is to make many lights pass over the wood surfaces to steam clean all the dust and dirt.
What are the best steam mops for hardwood floors?
Best Overall: Bissell Powerfresh
The Powerfresh article from the Bissell brand is one of the best steam cleaners. Mostly among all the related steam cleaning articles from other brands and companies. It offers the most effective cleaning solution. It works on almost all types of hard floors. Cleans easily the sticky mess from corners, grouts, and edges with the help of its mop heads. This steam cleaning device has a two-year warranty and can eliminate 99.9% of germs. The graphics of packaging or wrap are eye-catching while the whole package includes free soft and scrubby pads along with carpet gliders and fragrance discs. The manufacturer has designed the device by keeping your cleaning needs in mind, allowing you to choose from low, medium, or high steam. Our team of cleaning experts strongly recommends Bissell Powerfresh.
Bissell PowerFresh Steam Mop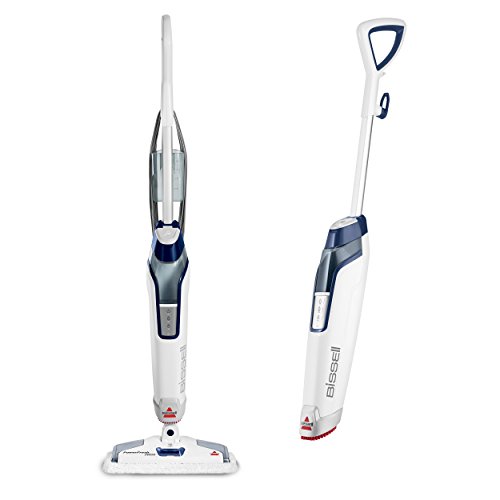 Best Lightweight: O-cedar
The next in our list of best steam mops for hardwood floors in O-cedar Microfiber Mop that effectively cleans floors without applying any chemicals to the wood surfaces. Its spongy pads absorb water from floors faster than any other steam cleaning device and make your floors dry quickly. O-cedar is easy to carry and operate due to its lightweight. Its highly efficient boiler can heat up within no time and steam in less than 20 seconds. The cleaning article not only cleans stubborn marks but also disinfects floors.
O-Cedar Microfiber Steam Mop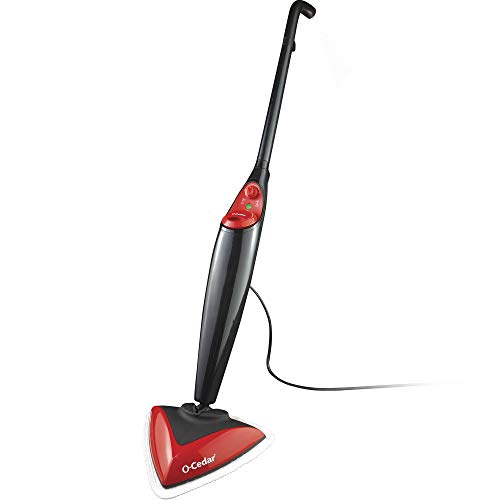 Best for professional use: Dupray Neat and Clean
This European-made steam cleaning machine offers a chemical-free cleaning solution. With 3 years general warranty, and a lifetime warranty on stainless steel boiler, the Dupray steam cleaner gives 40 minutes of cleaning time per refill. Its powerful heat system can steam up to 290°F with adjustable pressure. What makes it special is the premium accessories consisting of a 14-piece kit that you get along with the device.
Dupray Neat and Clean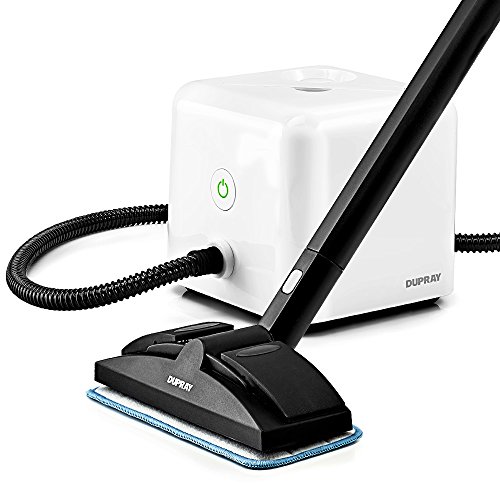 Which surfaces can you clean using a steam mop?
Laminate Floor
Besides using them on wood floors, steam cleaners are also safe for use on laminate flooring or any type of vinyl floor. However, it is recommended to consult the manufacturer for any warning related to steam cleaning as many laminate and vinyl flooring are prone to water damage. If your vinyl floor is water-resistant, you can go for floor steam without a second thought as this won't damage your floor. Another better option is to dry mop the laminate flooring without getting the mop pads wet. But dry mopping should be done regularly to avoid dirt accumulation or marks on the floor.
Tiles and grouts
Concrete surfaces and tiles are ideal for steam cleaning. With damp steam mop pads, you can easily extract dirt and dust. Regardless of the type of tile – porcelain or ceramic – you can steam mop on it. Moreover, steam mops cannot cause damage when used on grout lines. The steam cleaner not only can clean the tile flooring but also clean and disinfect the grouts.
Carpet
It's the beauty of steam mops that you can use on almost any surface. They are as good and safe for carpets as for wood floors. The mops can clean and disinfect carpets simultaneously. But a carpet cleaner cannot be used with such mops as it can damage both the carpet and mop pads.
Marble
Marble is usually porous and can be damaged by water, oil, milk, or any other liquid. Similarly, a high heat steam cleaner can also damage it. Even then there is no other better way to clean marble flooring than steam mopping. Use a steam mop of smaller size and keep moisture to the minimum by using a little amount of water, and enjoy safe and easy steam cleaning.
Other cleaning hacks for stained hardwood?
Oil stains
Steam mops can easily remove oil stains from your hardwood flooring. Rub the steam cleaner after filling its water reservoir with hot water and rub the cleaner on the stubborn oil marks. Replace the steam cleaner pad with a dry one and rub it on the stain before getting the pad wet. Keep doing this until the stain gets removed. To keep your wood floor and other wood articles in your house safe from oil marks and related damage, act immediately after an accidental oil spill, use steam to clean the wood surface regularly, and keep the inside temperature normal as wood is porous and moisture or heated or wet conditions not only can warp it but can also cut its life short.
Urine stains
Urine stains are one of the most unpleasant marks that nobody wants to see on their wood floors. You can use steam to get rid of these repulsive marks. Steam mops with bigger water reservoirs are considered the best for this purpose. But keep in mind that a larger amount of hot water used to remove urine marks may damage or warp hardwood floors.
Burned marks from steam
Burned marks on a wood surface or a floor grain-like wood can also be removed with a steam mop hardwood floors. You will have to set the mop at minimum moisture before starting vigorous rubbing using hydrogen peroxide and baking soda in the water reservoir. If you don't want to use mopping tools, use a towel or a piece of cloth after getting them wet in the hydrogen peroxide and baking soda mixed water. Or try any quality detergent to get better results.