Choosing the right steam work isn't easy. Although it is quite an investment it can help you for severals years so it makes sense to learn about the different steam mops before going ahead and buy it. We'll see here how to choose a steam mop
How To Choose A Steam Mop
Steam mops are excellent steam cleaners. They are practical for many types of floor surfaces. Also no chemicals are used in the cleaning process, safer for households with pets and children.
However, there are a lot of products on the market. You should consider the following factors to ensure you choose the best steam mop for your home needs:
Do Your Research
Many outlets carry only one or two brands of steam mops. Check out several options before you hit the store and figure out which retailer in your area carries the mop you want. Proper research should be done on the steam mop product you want before you try to purchase it in other not to get the wrong one but the best.
Consider a Multi-tasker
Steamers that also pick up dry debris eliminate the need to use a separate tool to sweep the floor before steaming. Performance varied in our test, but most sweep-and-steam mops did at least a passable job at both tasks. While some allow you to sweep and clean simultaneously, don't count on it. You'll get the best performance doing each task separately.
Select Your Steam
All stains aren't the same, and many steam mops acknowledge that with adjustable steam settings. Look for a model that lets you tailor the steam output to the type of floor and amount of soil being removed. Be sure to check your flooring manufacturer's website. They'll likely have recommendations on the best way to clean that particular surface.
Corded Convenience
It may sound minor, but a long cord means you'll be able to clean more real estate without having to unplug and plug the mop in again. It's the same principle as with vacuums and carpet cleaners.
Flexible Cleaners
For hard-to-reach spots, look for models that fold flat (to fit under low clearances) or feature a telescoping handle. Also, consider picking up extra cloths or cleaning pads; many offer helpful features like scrubbing fibers to remove stuck-on stains.
A Stand Delivers
Protect your flooring with a landing pad or tray. Many units come with them, and these add-ons give the mop a place to heat up and cool down, as well as catching any water that may drip out.
Stand-Up Mop
For added convenience, look for a steam mop that stands upright on its own. That way you won't have to worry about it tipping over while its heating or cooling.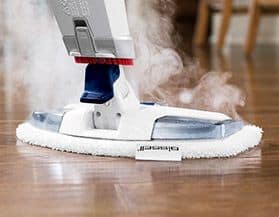 Type of Floor Surface
Practically all hard surfaces can be cleaned using steam, but special considerations should be made for specific surfaces (like hardwood).
If you plan on cleaning hardwood floors, ensure that it has an adjustable steam setting so you can control the levels of heat and moisture that your floors will receive. Also, if you intend on using it to freshen up your carpets, ensure that it comes with a carpet attachment. This raises the bottom just enough to keep carpets safe.
Size of Cleaning Area
This is a very important factor, particularly if you have a larger home, or multiple stories. There are number reasons why you need to consider this:
Larger homes require a larger water tank. If you choose a machine with a tank that's too small for your needs, you'll find yourself wasting time running back and forth just to refill.
People with smaller homes, or even those that intend to clean a smaller area, will find most cord lengths acceptable. However, in the case of a larger cleaning areas, finding a machine with a cord long enough to do multiple rooms without unplugging will be much easier and less time consuming.
A larger mop surface will also clean more floor at once, which is great if you have a large amount of surface to cover.
Cleaning Cloth Material
If you intend to use the mop on wood, or other delicate surfaces, you will need to make sure it comes with microfiber cloth, as other types of cloths may scratch or otherwise damage delicate surfaces. Microfibre is also great at trapping dirt, and can be washed and reused multiple times.
Ease of Use
Look for steam mops which are easy to swivel and fold flat. This will make cleaning around furniture a lot easier. An adjustable, ergonomic handle is best if you have mobility issues, as this will reduce your need to bend and stretch.
Fast Heat-Up Time
Approximately 30 seconds is ideal. In today's busy world, you don't want to waste too much time just sitting and waiting for it to heat up. This is especially important if you have multiple cleaning jobs spread throughout the day.
Accessories to consider when choosing a steam mop
Ideally, you should be able to easily and inexpensively purchase extra cleaning cloths when required. Without extra cloths, the steam mop will be unusable while the original cloth is being washed. Other accessories to keep in mind might be attachments to clean other areas of your house beside your floors, such as windows.