Grout Steam Cleaner
Why and when do you need to use a grout steam cleaner?
Once your tile grout is too moldy and too embedded with soap gunk, often the only solution is to remove the grout and replace it.
While this process is easier than one might expect. Why go to all that trouble when you can effectively clean it with a grout steam cleaner in the first place?
Steam cleaners heat water to over 200° F and have nozzles and brushes that direct blasts of steam onto grout. How well do they work?
Bottom Line
Cleaning your grout with a steam cleaner only assists hand scrubbing.
Vigorous scrubbing is still required, as using a steam cleaner does not cause grout gunk to shed off by itself.
If your vision is to eliminate scrubbing altogether, gentle power-washing of your tile grout is one way to do this.
Buy a steam cleaner only if you believe you can use it for other purposes in addition to cleaning the grout. Do not buy it for grout-cleaning only.
Grout Steam Cleaning Tool
On the consumer market, there is no tool specifically made for cleaning tile grout.
A general purpose canister style steam cleaner like the McCulloch Heavy-Duty Steam Cleaner heats up water past boiling point in a few minutes and maintains steam for about 30 minutes.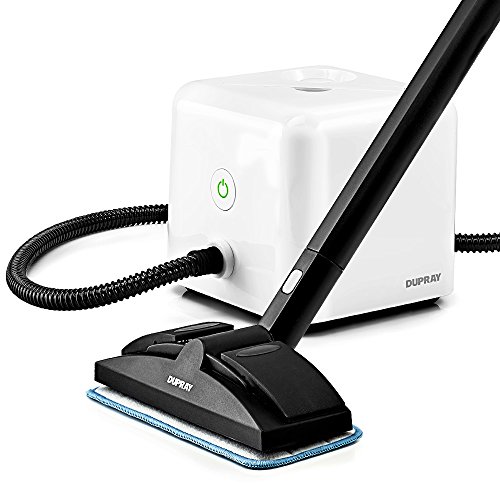 Your Enemy: Unidentifiable Grout Gunk
What happens is that homeowners (or previous owners) let tile grout gunk up with soap scum, mold, mildew, and other unmentionables to the point that the tile appears to be past the point of help.
In a sense, they are right. This gunk works into the pores of the grout, and after years it cannot be removed with normal means, even scrubbing vigorously with a stiff bristled brush and using powerful cleansers.
In short, the grout gunk becomes stronger than the grout itself.
You Begin to Damage Your Grout
This creates a secondary problem.When you step up your game with stronger brushes, you risk chipping away grout and the fragile edges of the tile itself.
Once that happens, you are forced to remove and replace the grout–you have no other option.
Or many homeowners look at their horrific tile gunk with despair and just jump right ahead to highfiderev06-20nt.
How Well Does It Work?
Steam cleaning your tile grout is an middle option. While a more involved process than just using brushes and cleansers. It is less complicated and costly than removal and highfiderev06-20nt of the grout.
This do-it-yourself project involves renting or purchasing a small machine and directing high temperature jets of concentrated steam at the offending grout. Even so, you will need to attach nylon-bristle brushes to the steamer to help dislodge the gunk.
Steam cleaning grout is a green cleaning activity. No harsh chemicals are needed. Water plus high temperatures plus rubbing are enough to eliminate most grout debris.
Tips
Make sure you buy a canister, multi-purpose steam cleaner. Some steamers are floor-only and will not work for shower or bathtub tile. Multi-purpose cleaners have attachments for different surfaces.
Before using any attachments, first blast the grout with a steam jet to remove the worst of the gunk.
Start with nylon bristles, as they will not damage the grout, no matter how hard you rub.
Use the wire bristle attachment with care. The wire brush is your ultimate weapon, but it can chip tile. If you have smooth, glossy tile, a wire brush will almost certainly scratch it!
Work from the the top downward. Every few minutes, liberally douse the steamed area with fresh water to move the gunk down to the drain. If you let liquified gunk remain on the surface, it will harden and your problems start all over again.
After steaming an area, give the machine ample time to build up steam again.
What To Look For When Buying A Grout Steam Cleaner
There really isn't a steam cleaner just for grout so a multipurpose steam cleaner is going to be the better option. Let's take a look at exactly what you need to look for when buying the best grout steam cleaner.
Does Power And Temperature Matter?
The best steam cleaners not only remove stubborn dirt and grime from almost anything but they also kill up to 99.9% of germs and bacteria. However, if the steam cleaner doesn't reach a high-enough temperature sanitizing and disinfecting is impossible to do, and removing ground in dirt from grout is just not going to happen.
So bearing that in mind try and buy a steam cleaner that reaches temperatures of 158 to 212°F. At these high temperatures you will have no problem disinfecting and sanitizing your tiles. The manufacturer states that the steam cleaner can reach these high temperatures. However the steam will cool rapidly from the tank as it flows through the hoses. So either you have to use smaller hoses and nozzles. Or you need to double check to make sure that the tank heats the water much higher to compensate for the loss of temperature. Sound confusing? Not really many of the best grout steam cleaner have already realized this and will heat up the water tanks accordingly.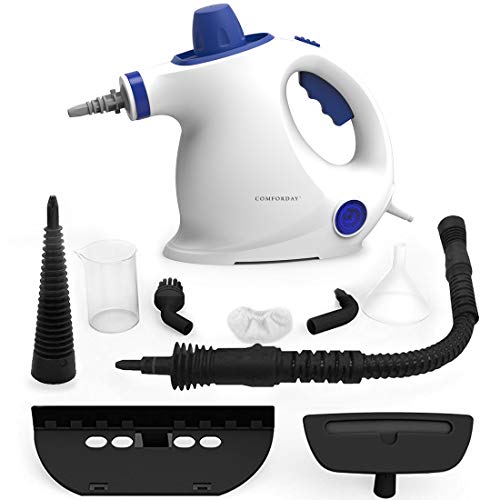 Using water to make steam is only one part of a grout steam cleaner, the top rated grout steam cleaners will also use a combination of steam as well as pressure. This combination is a must is you really want to get those tiles and grout clean. Many units will comes with specialized hoses that will create the pressure needed. You can also try and look for a unit that has the highest wattage possible – the more power means more steam cleaning power.
Always Opt For Multiple Attachments
Buying a multipurpose steam cleaner is going to be the best option to give you the biggest return on investment. By doing so you will be able to steam clean any area of your home. Such as disinfecting upholstery, spot-treating your carpet, releasing wrinkles from clothes or even steam cleaning your car or bike.
Many of the best steam cleaners come with a full set of attachments and hoses that make light-work of dirt in grout. Such as scrubbing brushes and detail nozzles as well as extension rods. This will allow you to reach the uppermost crevices of your tiled shower enclosure or bathroom wall. In fact, out of all the grout steam cleaners we reviewed all of them had some sort of tool made for cleaning grout.
Even if grout cleaning is your main priority at the moment there will be times when you will need to steam clean other parts of you home. This is why having a steam cleaner on hand is far cheaper than having to rent one for a small job.
Save Time With A Larger Tank
When choosing a new steam cleaner you have to option of choosing a portable steam cleaner of a full sized steam cleaner. Depending on how much tiling you have in your home. Obviously a portable handheld steamer is not going to produce steam as long as a full-sized unit. But if you only plan on cleaning grout in your bathroom this size will probably be good-enough. However, if you have tiled floors or tiled walls in your kitchen a full-sized steam cleaner is a better choice.
The larger water tank means that you will be able to work continuously for roughly and hour before having to refill the water reservoir. Compared to only 10 to 12 min with a small handheld steam cleaner it is a big difference.
Nice-To-Have Bonus Features
Every steam cleaner manufacture tries to add as many bells and whistles to their units to try and out-do the competition. Many of these added features and attachments will rarely get used. There however some desirable features that you may want to consider. Such as an on-demand steam nozzle combined with a locking switch that will allow you to produce continuous steam without having to keep your hand on the trigger.
Longer power cords are always beneficial. Especially if you are steam cleaning a large room as well as wheels making the unit more mobile. Which, when you have a full tank of water really makes a difference. Also things like flexible hoses make getting behind toilets and along a backsplash and other tight spaces a breeze.