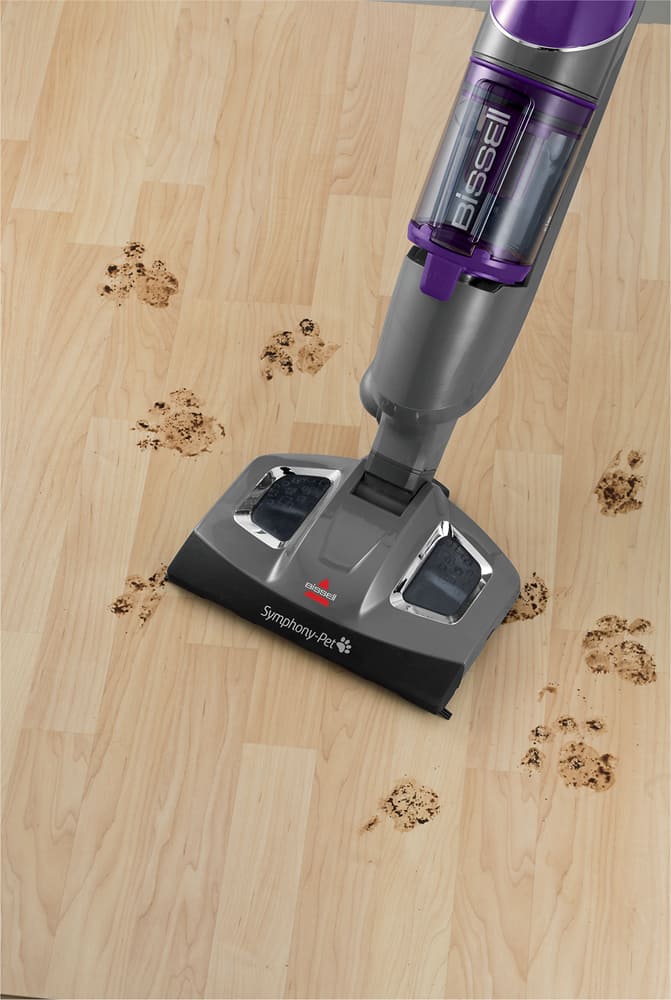 Bissell 1132A Symphony All-in-One Vacuum and Steam Mop
1132-A Features: -Cut cleaning time in half by vacuuming and steaming at the same time. -Powerful cyclonic action vacuum for dry debris pick up. -Steam eliminates 99.9% of germs and bacteria and tackles tough, sticky messes. -Edge bristles to sweep debris away from edges. Color: -Grey. Material: -Plastic. Number of Items Included: -1. Dimensions: Overall Height – Top to Bottom: -46.5 Inches. Overall Width – Side to Side: -11 Inches.
Now you can enjoy a complete hard floor clean in one easy step. The Bissell Symphony All in One Vacuum and Steam Mop is the only cleaner that can vacuum and steam at the same time. You get a clean, sanitized* hard floor without using a mop and bucket or harsh chemicals, all you need is water. Easy Touch Digital Controls let you switch between functions while cleaning so you can vacuum and steam at the same time or separately to match the right clean to the right situation. When you're done, an adjustable handle and Quick-Release Mop Pad Tray makes it easy to store and get back to enjoying that fresh, barefoot-ready clean you and your family love.
*When use as directed, results may vary. Tested under controlled lab conditions.
Complete Clean
Easily clean your hard floors with the only product to vacuum and steam at the same time, in one easy motion.
From the Manufacturer
Trouble Shooting Steps 1. Empty solution tank 2. Making sure the "Hi" or "Low" steam buttons have been selected 3. Making sure the water filter is pushed in all the way.
Bissell Symphony
The Bissell Symphony All in One Vacuum and Steam Mop is the only cleaner that can vacuum and steam at the same time.
FEATURES
Easy to use with Easy Touch Digital Controls, 5-way adjustable handle, and Quick-Release Mop Pad Tray – 4 mop pads included
Save time by vacuuming debris and steaming hard floors at the same time
When used as directed, results may vary. Tested under controlled lab conditions. Dry Tank Technology keeps your tank dry while you steam
Sanitize with steam, using just water to eliminate 99.9% of germs and bacteria*
Kindly refer the user manual given below for troubleshooting steps.

PROS
At ten pounds, this vacuum / steam mop combo is as light as many modern vacuum cleaners.
Steam can sterilize a mess far faster and effectively than anything else most home owners have at their disposal. This makes it invaluable for making the spot where the cat pooped, the dog barfed or a child was ill before your infant starts crawling across that part of the floor again.
This vacuum / steam mop combo can be used on tile, laminate and wood floors. Since it is chemical free, it lets you sterilize linoleum or clean tile without the sticky residue Swifter leaves behind or the nasty smell left after cleaning with bleach water.
The Bissell Symphony's cleaning path is eleven inches across. This is large enough to fit in many nooks and crannies, while you don't have to make too many passes to clean your kitchen or mud room
The Symphony has a large water tank, so you aren't running back and forth to the sink to refill it. It is also easy to refill.
The steamer / vacuum comes with two microfiber mop pads. Replacement disposable mop pads cost around ten dollars for a two pack. Washable, re-usable wash pads are frequently available for the same price. Do not use fabric softener on the microfiber pads when you wash them; this will damage them.
Bissell's steam mops have built in spaces for fragrance disks that add any of a number of scents to the air as you clean.
This steam mop / vacuum cleaner's design makes it easy to replace the mop pads.
CONS
Bissell Symphony Vacuum AND Steam Mop if you have hard water, you cannot use the steam cleaner using tap water. Do not use hard water with the steam mop, or the sediment will build up in the steamer and clog it. If the steamer clogs, you can burn up the unit.
Vacuum can be finicky while using vacuum and steam mop together
Water tank cover can be hard to open
Steam temp drops during vacuuming
Vacuum is very loud
Some complained of poor vacuum suction
Can be difficult to push because it has no wheels
Reservoir opening difficult to open for many
You won't find an on/off button on this steam mop vacuum cleaner. It starts working once you plug it.
13 Oz of water allow around 15 minutes of steaming. Sometimes it's not enough.
You recognize exactly what a pain they are to clean up if you have laminate floors. This device is optimal. Unlike options by various other manufacturers, it steams and vacuums at the same time. It is easy to set up, easy to operate, as well as gets every little thing in its course other than sides and also corners of areas. 2 style issues stop my giving it the five stars it otherwise is worthy of: (1) The cabinet into which you put water is so limited that you must insert a blade after pinching the two sides of the spout to obtain it out, a truth that is discussed by Bissell in the dialogue on its YouTube video clip, yet is not discussed in the directions, and also (2) the cord attaches at the rear of the base, so one is regularly getting a foot tangled in it. Aside from these disadvantages, this is a superb system, as well as it does the job for which it is intended flawlessly.
SUMARRY
This vacuum and mop in one model is perfect for hardwood floors, linoleum and tile floors. It cleans all the dirt and grease and removes the stains. This best Bissell vacuum is light-weighted, so you can easily move it from one home area to another.
We recommend the Bissell Symphony All-In-One Vacuum As Steam Mop to people who have least to no time for cleaning and don't want to use rash chemicals.